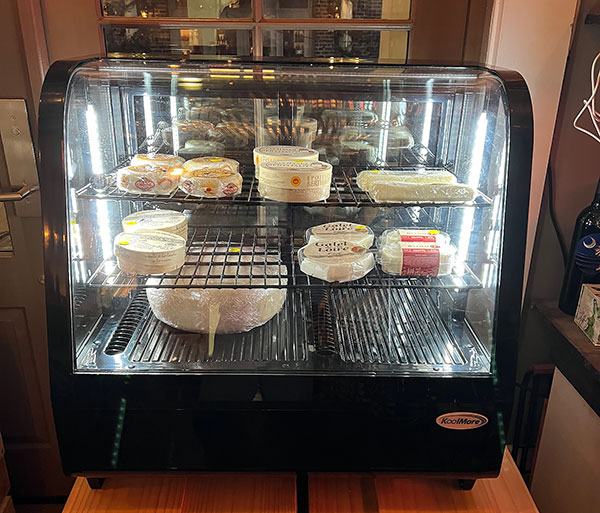 My new refrigerated, regularly stocked, cheese display case.
Pick up some delicious cheese next time your in!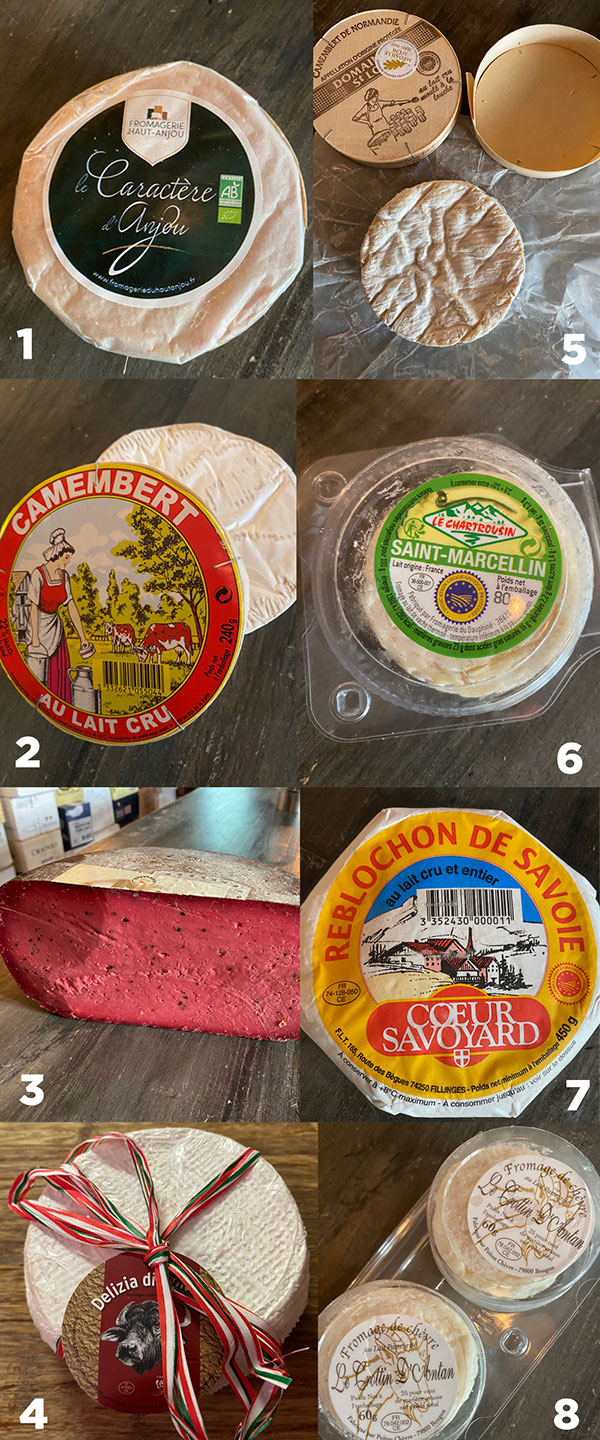 NEW CHEESES
1. Haut Character Anjou / cow 7.5oz $13— Definitely a cheese for people who liked strong cheese. It's a bit rustic but very fun.
2. Camembert 240g $10 — An easy going Camembert, made for the French market, a milder flavor but perfect for an introduction to Camembert.
3. Tomme Berry tomato olive / cow $26/lb — Hard cheese made with tomato and olive from the loire valley.
4. Buffalo Camembert $18 9oz — Made with buffalo milk. Outside crust of a Camembert but creamy inside like a buffalo style mozzarella, very smooth and easy, perfect for a new cheese explorer.
5. Gold medal Camembert 250g $14— Best Camembert in France 2020!. Has a bit stronger flavor profile but it's the real thing with real flavor. This is what you find in a good cheese store.
6. Saint Marcelin / cow 80g $5 little creamy cow from Lyon, smooth easy going and light.
7. Reblochon / cow 450g $22 —a French aop classic definitely outstanding when baked.
8. Crottins / goat 120g 2 pack $11 — Competition for Saint Marcellin, very creamy as well but a bit more woody at the end, an everyday cheese.
MORE CHEESE!
Always check with me to see what cheese is currently in stock.
1) PÉRAIL PAPILLON:$15
Pasteurized creamy goat cheese. Its supple and soft texture and its fresh taste will delight lovers of good cheese. 
2) TOMME PESTO: $24/lb.
This cow cheese is quite unique and brings a Mediterranean touch to your cheese board. Creamy and delicately aromatic, it is embellished with Basil pesto which gives it a particularly tasty fragrance.  
3) CROTTIN CLASSIC: $7
Goat cheese, perfect for salads and cheese boards.
4) SAINT MAURE: $21 250 g
Smooth and delicate goat cheese from Loire valley 
Woody, smoky cow cheese with firm rind
6) CHANICHOU DE POITOU: $14
Produced by farmers in the Poitou Charente region. The interior texture is dense yet velvety at the center with mild sweet goat tang and bit of nut flavor as well.
7) PETIT CREAMY: $8
Cow cheese made in triple cream style, spreadable texture
More cheese, and a new butter from France!
Always check with me to see what cheese is currently in stock.
1) Galet de la Loire $14
2) Le Gatinaus (goat) $15
3) Le Beurre Moule Butter  $13.50
4) Camembert De Normandie (cow)  $13
5) Le Petit Trou (cow) $12
Boxcarr Handmade Cottonbell
Boxcarr Handmade Rocket's Robiola
$23/lb Both these are cow's milk cheeses from North Carolina.   
1) Aged comte 24 months, it features a firm, buttery texture, and sweet nutty flavour. It has similar flavours to those of Gruyère but is sweeter. If you love french cheese, this is a must try.  $24/lb.
2) The story of Saint Agur starts with Roquefort. French cheese lovers used to top the sharp sheep's milk cheese with butter to make the intense blue flavors sultrier. And thus, came the idea for Saint Agur—a luxurious double cream cheese from mountain cow's milk.  $9.75
3) Ripened for 6 to 9 days the bergeronnette cheese is thermalized sheep cheese, very creamy, a bit of nuts and lemon flavor, not strong.  $14
4) Galet de Loire, cow cheese, from the loire valley, creamy woody,wheat straw flavor!  $13.50
5) Buffalo Camenbert Truffle, very creamy cheese made with buffalo mozzarella with the outside of a camenbert, with some notes of summer black truffles—delicious!  $15
Sheep Feta in Brine from Greece:  $8
Vermont Butter Creamery Goat Cremont:  $11
Grafton Cheddar Truffle from Vermont:  $6
Barbers 1833 Reserve Cheddar:  $8
Red Dragon English Cheddar with Wholegrain Mustard & Ale:  $9
Original Blue, 6 oz.  They're definitely famous for this rich blue!  $9
Toma Truffle, 6 oz.  A cheddar harder style cheese.  $9
Truffle Brie $26/lb.
Made from a traditional Brie, added to a mixture of grated truffles and Mascarpone for a very subtle flavor of truffle, in a creamy dairy product.
Deer Creek Vat 17 — white cheddar
Deep, bold and complex, well balanced, buttery and savory with a clean fully rounded finish.
GREAT THINGS ABOUT GOAT CHEESE
Naturally good tasting goat milk products are also good for you. For those with a sensitivity to cow milk, goat milk is an excellent alternative. Goat milk has a higher percentage of short and medium chain fatty acids than cow's milk and is lower in cholesterol and higher in calcium, phosphorus, and vitamins A and B.

Goat Milk Qualities:
·   Most of the world's population drinks goat milk.
·   Goat milk is more digestible because the fat molecules are a smaller size than those from cow milk – making it easily tolerated by those with compromised digestive systems.
·   Goat milk has less cream separation because of smaller fat molecules.
·   Goat milk contains the precursor to Vitamin A in the milk fat that allows it to be readily available for use by the body.
·   Goat milk is closer to human milk and is more easily accepted especially by those young or frail.
·   Goat milk does not form mucous (phlegm) and is better tolerated by asthmatics and those with allergies.
·   Goat milk contains more chlorine, fluorine, and silicon than any other domestic livestock. Chlorine and fluorine are natural germicides and fluorine assists in preventing diabetes.
·   Goat milk contains 2% curd, which precipitates in the stomach. Cow milk is 10%curd.
·   Goat milk is tolerated by a compromised/damaged liver because of the smaller fat molecules.
Source: Natures Prescription Milk by Gloria Gilbere, N.D., D.A. Hom., PhD.
Marinated Feta with Sun Dried Tomatoes: $13

8-oz jar of sliced goat milk feta layered in oil with chopped sun dried tomatoes.
Marinated Feta with Sun Dried Tomatoes and Olives: $14
12-oz jar of cubed goat milk feta layered in oil with chopped sun dried tomatoes and green olives.
Brined Feta: $13
 comes in 16-oz. jars containing approximately ten ounces of cheese.
Feta Cubes in Lemon Basil Oil 8oz.: $13
Cheese Balls: $14
are made from Fromage Blanc, flavored with apricot or raspberry, and coated with almonds or pecans. 10-12oz.