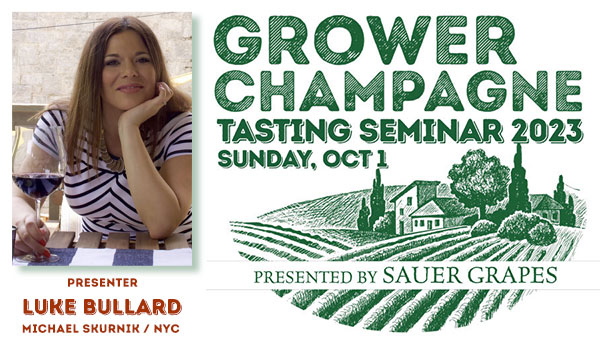 SUNDAY, OCTOBER 1 – 3-5 PM
The cost of registration is $95 (+tax)
Refunds for cancellations will be issued only until 48 hours prior to the seminar.
Michael Skurnik imports over 60% of all Grower Champagne coming into the US!  What is Grower Champagne? It's farmers in Champagne, France making and selling their own champagne. Luke visits all these wineries and knows every minute detail of these incredible Grower Champagnes, the winemakers, the soil—she's amazing! It really adds to the drinking experience when you understand what creates the vast complexities of flavor in Grower Champagnes. 

The Culinary Institute of Charleston is a wonderful space to experience the tasting presentation. There is ample uncrowded space.

(And you can wow your friends, colleagues and family with your new-found knowledge!)

Light cheese and bread will be served.
Here is the list of Grower Champagnes you will taste and learn about during the seminar:
 
Pierre Gimonnet Blanc de Blancs Cote des Blanc
Pierre Gimonnet Special Club 2016 Cote des Blanc
Rene Geoffroy Expression Valle de la Marne
Vilmart & Cie Rose Emotion
Vilmart & Cie Cuvee Rubis
A.Margaine Rose Montagne de Reims
Mousse Fils "Hommage à Cuisles" Club Bottle Brut  Valle de la Marne
A.Margaine Le Brut Montagne de Reims
Gaston Chicquet Special Club Millesime 2015 Valle de la Marne
Dehours Grand Reserve Brut Valle de la Marne
"The speakers were both engaging and knowledgeable. Their storytelling and education brought the Grower Champagnes, the Champagne makers and the regions to life."

"I've attended several of the Grower Champagne Seminars and really enjoy them. They have a terrific variety of champagnes and the information always leaves you  feeling much more knowledgeable about the Grower Champagne makers and the products they produce.

Speakers at the seminars are always interesting and engaging. The venue is great with seating arranged in an elevated tier section so you can easily see and hear everything. I also appreciate the provided handout materials.

I truly feel the seminars are great with outstanding champagnes and information. It's a great time for everyone!"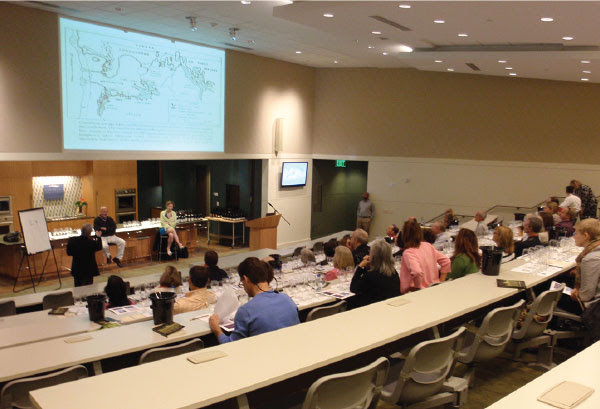 The Sauer Grapes Grower Champagne Tasting Seminar 2023 will be held in the spacious 115 person Amphitheater located at the Culinary Institute of Charleston at Trident Technical College's Palmer Campus, 66 Columbus St, Charleston.
A shuttle bus that will leave from and return to Sauer Grapes will be available for a small fee.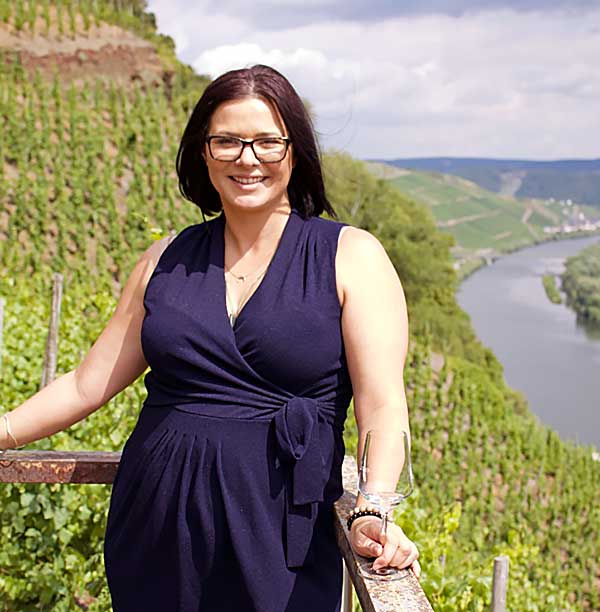 LUKE BULLARD BIO


The wine bug bit Luke after retiring from a ballroom dancing career, while working at an Italian restaurant where she fell in love with Nebbiolo. After stints in fine wine retail and wholesale, Luke grew her working knowledge of the wine industry while managing the sales of Uva Imports in 13 states. When her family moved to her husband's home state of Florida, she got an opportunity to manage sales in the southeast for one of America's greatest fine wine companies, Skurnik wines. Today she works closely with James Beard award winning wine Author, Terry Theise, and some of the greatest wine producers in the world.  Luke's passion and expertise run particularly deep in Champagne, and educating wine lovers on the modern wines of Champagne–a region that in recent years has undergone one of the most dramatic transformations in the wine-growing world.